eToro – review
The content of this article
eToro was launched in 2007 and offers a very user-friendly trading platform where investments can be made in stocks / cryptocurrencies and CFDs – with or without leverage. They have over 17 million customers across large parts of the world and are regulated by authorities in Cyprus, the UK and Australia.
eToro.com is a good alternative for you who want to invest in cryptocurrencies, CFDs and stocks.
Their clearest advantages are that they offer trading in stocks completely without brokerage and that they offer trading in cryptocurrencies, commodities, indices, etc. both with and without leverage.
Their wide range of investment options, as well as the CopyTrading service, is something that is often highlighted as positive in reviews of the company.
Note: Historical results are not an indication of future returns.
Biggest benefits of e-Toro
Go short or long in a simple way (make money on ups or downs)
Trade with or without leverage
CopyTrading – Follow & copy other successful traders
Trade stocks completely without brokerage
Trade cryptocurrencies with and without leverage
Trade commodities with and without leverage
78 % of retail investor accounts lose money when trading CFDs with this provider. You should consider whether you can afford to take the high risk of losing your money
eToro – is suitable for you who…
eToro, CMC or IG-market?
Here is a presentation of the investment profile that mainly benefits from the services that eToro offers.
Choose eToro if…
you want to trade in cryptocurrencies
With eToro.com/sv investments can be made in just over 15 cryptocurrencies. Trading can be done directly in the cryptocurrency or via CFD. In addition, trading is offered in over 60 currency pairs, commodity pairs and in pairs between two cryptocurrencies. This means close to 100 different options.
eToro presents one of the largest offerings in cryptocurrency trading..
you want to use CopyTrade
One of eToro's unique benefits is CopyTrade. Follow skilled investors and automatically make purchases (with default amount) based on how they invest. Easy way to follow the pros.
Note: Historical results are not an indication of future returns.
Security
eToro follows regulations from FCA, CySEC and ASIC, which means that there are a number of measures that create security for investors. The FCA, the Financial Conduct Authority, regulates approximately 60,000 financial services in the United Kingdom. CySEC is the financial authority of Cyprus and the ASIC, Australian Securities and Investments Commission is the Australian equivalent.
The company was founded in 2007 and has about 6 million users.
2FA
2FA can be activated in account settings, which means that a code is sent out via an SMS when logging in. Login can therefore not take place unless the code has been entered.
Our rating:
With over 13 years of experience, eToro is today one of the largest and most well-known trading platforms offering stock & CFD trading. A safe and secure trading place.
Registration
Demo Account & Trading Account
Creating a demo account at etoro.com is very easy as only the username, e-mail and password are required when registering. It is also possible to log in through a Google or Facebook account.
Demo account means that trading takes place with "play money". It can be used to test the trade and the various services included with eToro. For people who have never used similar trading venues, a demo account is recommended as a first step. It can also be a flexible alternative for fictitious investment competitions.
Activating a trading account is just as easy and means that trading can take place with authentic funds. In this situation, however, identification is required by uploading an ID document and proof of address.
Education
Click on "Guide" in the menu to start a 2-minute interactive guide on the platform. A very good way to learn the basic features. Then the in-depth guide can be started.
The help section is well developed with questions in most categories.
Podcasts, articles and news are available via eToro Academy at etoro.com. Here is also "Trading School" which are educations that take place online. Sign up for suitable training and deepen your knowledge in, for example, market analysis or trading. All this information is in English.
Our comment:
We feel that the information and training that is available is primarily focused on explaining eToro's services and how trading takes place. At this point, we believe that both Nordnet and IG-market have more in-depth articles and analyzes. But it is obviously a matter of taste depending on what is sought after.
Deposit & Withdrawal
Deposit
Deposit can be made with:
Bank card
PayPal
Skrill – For transfers that are not USD, an exchange fee will be charged
Bank transfer – Minimum transfer is 425 Euro
Neteller
For those who do not want to give out card details, PayPal can be used. Deposit is made on PayPal via Direct transfer from a bank, after which PayPal is used for transfer to eToro. This without a penny in fee.
Withdrawal
The minimum amount to withdraw is equivalent to 30 USD. The money will then be withdrawn via the same payment option that was used for the deposit. If the deposit has been made with several different options, withdrawals will take place with the following priority – Card, PayPal, Bank transfer.
Estimated time for withdrawal:
Bank card and Bank account: 8 days
Digital wallets: 1-2 days
Withdrawal fee is $ 5 regardless of withdrawal option.
Our comment:
eToro has previously been criticized for high withdrawal fees. This is obviously something they have taken into account by lowering it to $ 5. There are trading platforms with no withdrawal fee but at the same time $ 5 feels affordable. Also very good that they offer deposit via PayPal.
Trading platform
User-friendly and easy summarizes eToro as a trading platform. Here the focus is on simple and educational steps to facilitate trading and an overview of holdings.
Choose market and access
Choose position (buy or sell)
Select amount
Enter order
If a person wants to invest in Amazon for $ 500, it is done through the following steps.
Search in the search field for "Amazon" and the stock will be presented immediately. An alternative is to click on "Trading Places – stocks – Select NASDAQ" whereupon all stocks on that stock exchange are displayed in alphabetical order.
When the asset is selected for trading, the trading window is displayed below.
Explanations of concepts:
Buy / Sell: In the picture, a buy position will be opened. The value will increase if Amazon's stocks increases in value. Had "Sell" been selected, a sales position would have been opened. The value would then decrease if Amazon's stocks increased in value.
Enter price: By selecting "At market price", the purchase will go through immediately. It is also possible to specify a lower price, which means that the purchase goes through if the price reaches this level.
Amount: The amount invested in the position
Stop Loss: The position closes automatically at a certain loss. (can be deselected)
Take Profit: The position closes automatically at a certain win (can be deselected)
Leverage: Most assets can be traded with leverage. Selecting X1 means no leverage at all. With X5, your position will increase 5 times in value compared to the asset. If Amazon increases 1% in value, your position will increase by 5%. Higher risk – higher return.
Enter Order: The order is placed. As soon as it goes through, it can be found under "Portfolio" which is found in the menu.
Risk management tools
With Stop Loss or Trailing Stop Loss, losses can be limited. A simple function that should be used for risk management.
Additional risk management can be done by following analysts' comments and analyzes of the stock. For all assets at eToro, you can see statistics, diagrams and summary analyzes (called research). Always be careful before you make an investment decision!
Our opinion:
With simple and clear order placement and the option of Stop Loss or Trailing Stop Loss, good opportunities for risk management are provided. An advantage is also that statistics and information are provided about the various assets. Here we do not have much more to wish for.
78 % of retail investor accounts lose money when trading CFDs with this provider. You should consider whether you can afford to take the high risk of losing your money
CopyTrading
The CopyTrading service is one of eToro's biggest unique benefits.
Do you want to follow the pros' investments with just a few clicks – or make money from others following you?
Copy the pros
By copying how the professionals act, you do not have to spend time on analyzes yourself. Search through filtering functions for investors that fit your investment profile. You can, for example, filter based on what they invest in, its country, return and risk
Note: Historical results are not an indication of future returns.
The minimum amount to invest in CopyTrading is USD 200 and it is possible to pause, increase and stop copying at any time.
When the investor buys, the same asset will automatically be purchased in your account. This is proportional based on the amount you set aside for this. In this way, the investor's portfolio is followed and you can expect the same percentage return over time.
An advantage is also that the investors who have many "copiers" write comments about the purchases that are made, which makes it easier for you to understand its strategy..
Note: Historical results are not an indication of future returns..
Get copied – Get paid
Are you a good investor? By creating a good return and rewriting the investments that are made, others on the platform can choose to copy you. For this, eToro pays up to 2% of your AUM (assets under management). This means that if people follow you with a total of $ 100,000, you will receive about $ 2,000 over a year.
Invest in
CFD – Trading in stocks and cryptocurrencies as well as Sell positions, takes place in CFD. In commodity trading and index trading, CFDs are always traded.
Equities / Crypto / Exchange Traded Fund – In the case of buy positions in stocks, crypto and exchange traded funds, this is done directly in the underlying asset
Copy portfolios
Portfolios are eToro's own "funds". It is a basket consisting of holdings from various traders on the platform or a basket of industry-like stocks.
Example:
Driverless – A basket of stocks in companies working for driverless cars.
Four Horsemen – A basket of stocks of the four largest Tech companies in the world.
Napoleon-X – A basket of several cryptocurrencies.
"eToro is the world's leading social trading platform, offering both equity and cryptocurrency investments as well as CFD trading with various underlying assets."
Investering kan ske i:
Stocks
Cryptocurrency
Index
Raw materials
Currencies
Our opinion:
The range is very wide, which is positive. eToro creates the opportunity to buy foreign stocks without brokerage! However, they only focus on CFDs, cryptocurrencies, currencies and equities. If trading is desired in options, warrants or other advanced securities, other trading venues need to be used.
Customer service
Answers to most questions can be found via the FAQ. When contacting customer service, customers are referred to fill in a form on the website. No customer service by phone is found.
Our comment:
Current contact opportunities are given lower grades. We believe that telephone contact and email address should be provided for easier contact opportunities.
Trade with leverage
Almost regardless of the asset in which trading takes place, it can be done with leverage at several different levels. eToro.com/en follows ESMA's rules regarding private equity trading and has the following limits:
Larger currency pairs: x30
Smaller currency pairs, gold and large indices: x20
Other commodities, other indices: x10
Stocks via CFD and exchange traded funds: x5
But it is possible to raise the leverage by applying for the account to be classified as professional. Then the possibilities increase greatly.
The image below shows trading in Silver. With a regular account, trading is limited by up to x10 in leverage. This while professional traders reach up to x100 in leverage.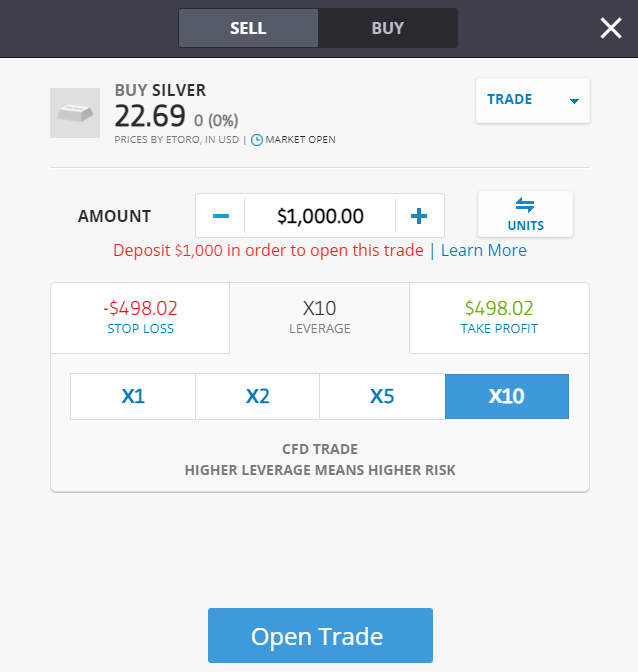 Advantages
The advantage of leverage is that a larger exposure can take place to a market without a larger amount being required. In addition, the opportunity is created to trade in the market with very low volatility.
Disadvantages
eToro states that a big percentage of private investors lose money in CFD trading" with them. This is due to the fact that trading takes place with leverage. Many people simply don´ t understand the increased risk of trading with leverage and take greater risk than they should.
Our comment:
Trading with leverage means increased risk. For many a too high risk. But we appreciate that the opportunity exists and it is not unusual.
Costs on eToro
| | |
| --- | --- |
| Courtage (commission) | 0 USD |
| Annual fee | 0 USD |
| Withdrawal fee | 5 USD |
Spread on eToro
| | |
| --- | --- |
| Currencies | from 1 PIP |
| Stocks | 0,09 % |
| ET – | 0,09 % |
| Index | from 100 PIP |
| Cryptocurrencies | from 0,75 % |
On some cryptocurrencies, however, they have a spread of up to almost 3%, which is very high.
Deposit fee: 0 USD
Inactivity fee: 10 USD/monthly.
An account where login has not taken place for 12 months will be charged an ongoing monthly fee. However, positions are never closed to cover this fee – payment can only be made with cash.
Overnight fee / Roll over : eToro charges an overnight fee for CFDs and margin trades. For purchase positions in stocks, this fee is not charged.
Example: Open a sales position of USD 500 in Boliden. Pay $ 0.04 per day in overnight fee. This corresponds to about 3% over a year. This only applies to sales positions.
Other people's reviews / opinions about eToro
Brookerchooser 4,7/5
The large US comparison site of trading venues gives eToro 4.7 out of 5 points. The highest score is given on "Open account" (5/5) and "Trading Platform" (4.6 / 5). The points that receive the lowest grades are Education, Customer Service and Research.
Their assessment agrees very well with what we consider to be eToro's strengths and weaknesses.
"We selected eToro as Best broker for cryptos and Best broker for social Trading for 2020"
ForexBrokers.com 4/5
ForexBrokers also gives eToro a high rating of 4/5. The highest grades are given in the categories "offering of investments" while the lowest grades are given to "commissions & fees". The reason for the poorer rating on fees is the fee for trading in crypto.
Here, too, we agree with the reviewer regarding the advantages and disadvantages of the trading platform.
"eToro is excellent for social copy trading and cryptocurrency trading, and is our top pick for both categories in 2020"
CompareBrokers
CompareBrokers gives eToro a 4/5 rating. The advantages that are mainly highlighted are the number of users worldwide, that they are regulated by authorities in several countries and that the platform has won several awards over the years.
Among other things, eToro has won Best Social Trading Platform in 2019 and Best Platform for Trading Cryptocurrencies 2019.
"When cliens buy stock at 1x leverage its completely free at eToro and they are buying the underlying stock. This isn´t always the case with other brokers"
Disadvantages with eToro
The fact that eToro disclaims free from informing its customers about increases in the spread is a disadvantage.
Fees are subject to change at any time and change daily, without prior notice, depending on market conditions. We recommend that you visit this page regularly to stay up to date on current fees. / eToro's website
Summary
We are divided in our opinion about eToro. The trading platform has major advantages – but also clear disadvantages. That is why we let two of our investors comment on eToro. They both believe that the platform has the following advantages / disadvantages – The question is what is prioritized.
+ Large selection of markets
+ CopyTrading
+ User-friendly
– The analysis tools could have been better
– High demand for amounts on "funds"
"User-friendly and smart with CopyTrading"
Ease of use, CopyTrading and the more "exotic" investments are the big advantages. This has made eToro my first choice regarding trading in, for example, cryptocurrencies and other more unusual assets. But it is important to beware of certain high spreads!
The trading platform is very easy to understand and it is easy to get started. Also appreciates that money can be deposited via PayPal.
Disclaimer:
eToro is a multi-asset platform which offers both investing in stocks and cryptoassets, as well as trading CFD assets. Please note that CFDs are complex instruments and come with a high risk of losing money rapidly due to leverage. 78 % of retail investor accounts lose money when trading CFDs with this provider. You should consider whether you understand how CFDs work, and whether you can afford to take the high risk of losing
your money